Hyundai dealership in Kelowna, BC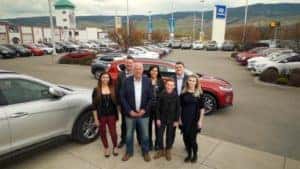 Since 2011, Kelowna Hyundai has been proudly serving the Kelowna area. We love bringing our experience to the table with every customer interaction, but as a family-owned dealership, we also believe that creating happy customers is the most important thing we can strive for. This community has given so much to us over the years, and it's important to us that we give back whenever we get a chance.
We love calling the Okanagan Valley our home, and we would love to work with you whether you are looking for your next car or even just some service on your current car. Our family-owned dealership is proud to be a destination for car-buyers and owners all throughout the area, and we routinely serve people from Kelowna, Penticton, Vernon, and countless other surrounding cities and communities. If you are looking for your next dealership, then come to us. We won't let you down.
Having the right people and the right dealership is surely important, but it's also important that we are offering something you actually want. With the Hyundai brand, there is a lot to love. Not only do they take care of their vehicle owners with extensive warranties and affordable prices, but they also offer wonderful vehicles. Take a look at the Santa Fe, Tucson, Elantra, or any one of the other models that we have in our inventory to see what we mean. Don't forget, we also have an extensive offering of used vehicles available too.
Not only are our Hyundai models priced affordably, but we guarantee the best price. Come to us with a legitimate competitor's price that's better on the same vehicle with the same trim and options and we will beat that price by 10% of the difference. If one of our vehicles is so attractive that you would like to travel for it, then we can help. Not only can we recommend local lodgings and transportation, but if you buy through us, we will reimburse your plane ticket. Some restrictions do apply. We look out for our customers, and we would love to look out for you. Come to see us today!