2020 Hyundai Venue Technology Features
By Product Expert | Posted in Hyundai Venue on Wednesday, March 11th, 2020 at 1:48 pm
W
h
a
t
t
e
c
h
n
o
l
o
g
y
d
o
e
s
t
h
e 2020 Hyundai Venue offer?
Next time you go to pick out a new vehicle, pay special attention to the technology offered. The technology inside a vehicle can improve your experience by being easy and fun to use. Optimally, you want something compatible with your mobile devices, so that you can enjoy your music and other features through your vehicle. Keep reading below to learn about the 2020 Hyundai Venue technology features.
---
2020 Hyundai Venue Apple CarPlay ™ and Android Auto ™
Two of the most popular smartphone brands can be paired with the 2020 Hyundai Venue using either Apple CarPlay for iPhones or Android Auto for Android phones. Pairing your phone means that you can access your favorite apps through the touchscreen display located front and center in your 2020 Hyundai Venue.
---
Connecting to Hyundai Apple CarPlay and Android Auto
---
2020 Hyundai Venue Blue
L
ink ® connected vehicle system
BlueLink connected vehicle system offers another way to interact with your vehicle through the convenient interface of your mobile device. By downloading this application to your smartphone, you allow yourself the ease of many mobile functions such as remote vehicle lock and unlock and remote vehicle start. From a distance, you can start your vehicle, turn on the climate control to heat or cool your vehicle, and unlock your vehicle, all from your smartphone.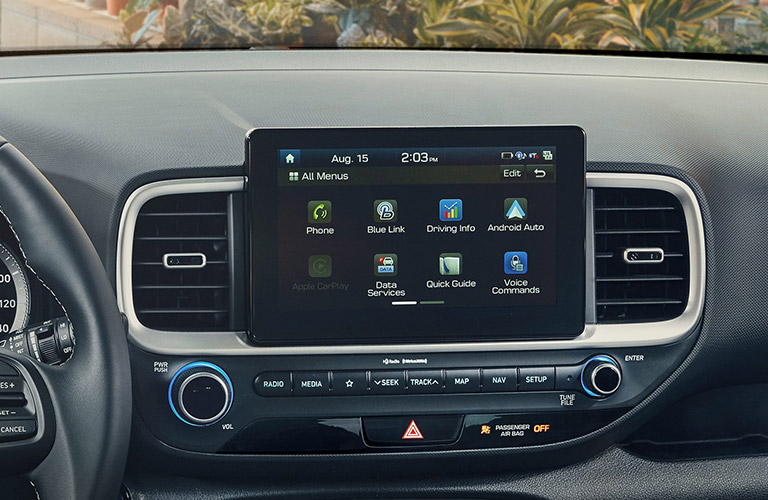 ---
2020 Hyundai Venue navigation system
The display that can connect with your smartphone also offers the benefit of an available navigation system. With this navigation system, you'll have maps easily available and conveniently located right next to your steering wheel on the front dashboard. This display also offers voice recognition functions to help you navigate without being distracted from your driving. Other information, like the date and time, will always be available at the top of the display.
---
More 2020 Hyundai Venue information
---