Services We Offer
Get your vehicle serviced at Kelowna Hyundai in Kelowna, BC! We serve Kelowna, Vernon, Penticton, Osoyoos, and Kamloops.
Our expert technicians perform the full range of services for whatever make and model you own:
Check ABS Light
Alignment
Systems Flush
Brake System
Cleaning & Detailing
Transmission
Check Engine Light
Engine
Suspension
Electrical Systems
Mount Tires
Steering
Exhaust Systems
Balance Tires
Interior Fabric Repair
Tire Swap
Scheduled Maintenance
Tire Storage
Car Wash and Detailing Service
At Kelowna Hyundai, we offer a detailing service second-to-none. After a 10-step process, our certified experts will deliver your vehicle back to you looking as clean as it did the day it came out of the factory.
Front to Back Vehicle Wash
The first step in the process is a complete vehicle wash from front to back. This is done by trained professionals who do everything by hand. We don't run anything through a car wash; we don't automate any part of the process—every step is executed by certified technicians.
Our techs will pressure-wash your vehicle, removing dirt and debris, including from the wheel wells. We hand wash and dry your vehicle as thoroughly as we possibly can. We also de-ice your locks and take great care to dry all latches and door seals.
Interior Clean
Next, we move to the interior of your vehicle. We vacuum all your carpets, your side panels, your trunk, your vents, your dash… you name it. We make sure all debris is cleaned away so that your vehicle looks just like it did the day you brought it home.
Then we'll steam and shampoo your interior, including your carpets and trunk. Your upholstery and leather will look like they just came out of the factory, and so will your vehicle's hard surfaces.
Power Polish
A good wash and shampoo is one thing, but you should also protect your vehicle's finish in order to maintain that new car look and feel. That's why we provide a power polish that removes contaminants and provides an extra layer of protection. We'll help fix those lines and scuffs and make your baby shine like new!
BOYD Autobody & Glass
For bodywork and cosmetic needs, contact our trusted certified body shop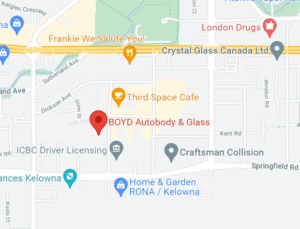 Phone: (250) 868-2693
Email: [email protected]
Address: 1960 Dayton Street
Kelowna, BC V1Y 7W6
Hours: 8:00 am – 5:00 pm Monday to Friday